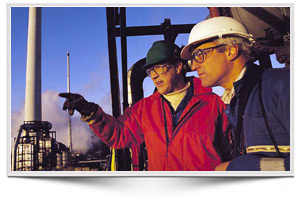 Our environmental compliance audit and survey services are designed to make compliance with environmental regulations easy.  American Geosciences professionals save you time and money, and help to ensure your facility is in compliance with applicable regulations.
American Geosciences helps owners, managers, and operation personnel with responsibilities associated with:
Manufacturing plants.
Chemical plants.
Property development.
Gasoline service stations and transportation facilities.
Property management (e.g., shopping plazas, office buildings, apartments).
American Geoscience's environmental compliance audit and survey services follow five basic steps.  We…
Discuss your goals and budget.
Conduct an environmental audit, gather background information and review existing procedures and permits.
Identify gaps in your existing program.
Make recommendations.
ŸProceed with the issues you want handled.
We can help you comply with environmental regulations in the following areas:
Asbestos abatement and demolition.
ŸEnvironmental impact and mitigation.
Hazardous waste.
Residual wastes.
Storage tanks.
ŸSpill prevention.
Waste characterization, pretreatment, and minimization.
ŸWastewater discharge (e.g., NPDES).
As we work with you on your environmental compliance services, we can further assist you by handling activities you may not be comfortable performing on your own.
Collect samples and interpret the results.
Submit reports to state regulators.
Train site personnel.
Write emergency and contingency plans.
Work to reduce waste generated.
Once we conduct an audit and get a program in place, we can help you maintain the program.  We work with you on record-keeping techniques and methods to track what needs to be done throughout the year.
Jerome D. Lombardi
President
Spedd, Inc.
"Although most impressed with your professionalism, experience and enlightened advice, your gracious nature, patience and integrity are particularly noteworthy.  You have also mastered the rather difficult task of making the complex less complicated and focusing on the essence of an issue."
For more information on our environmental compliance and audit services, please contact us today at 724.733.7000.